Derek Redmond, Wilma Rudolph, Kerri Strug, Billy Mills and Gabriela Andersen-Schiess are five iconic figures from the history of the Olympic games. They are all proof that strength comes from within and it conquers any obstacle, pain, and injustice. Watch them as they deliver an unforgettable performance and their view of the events years after.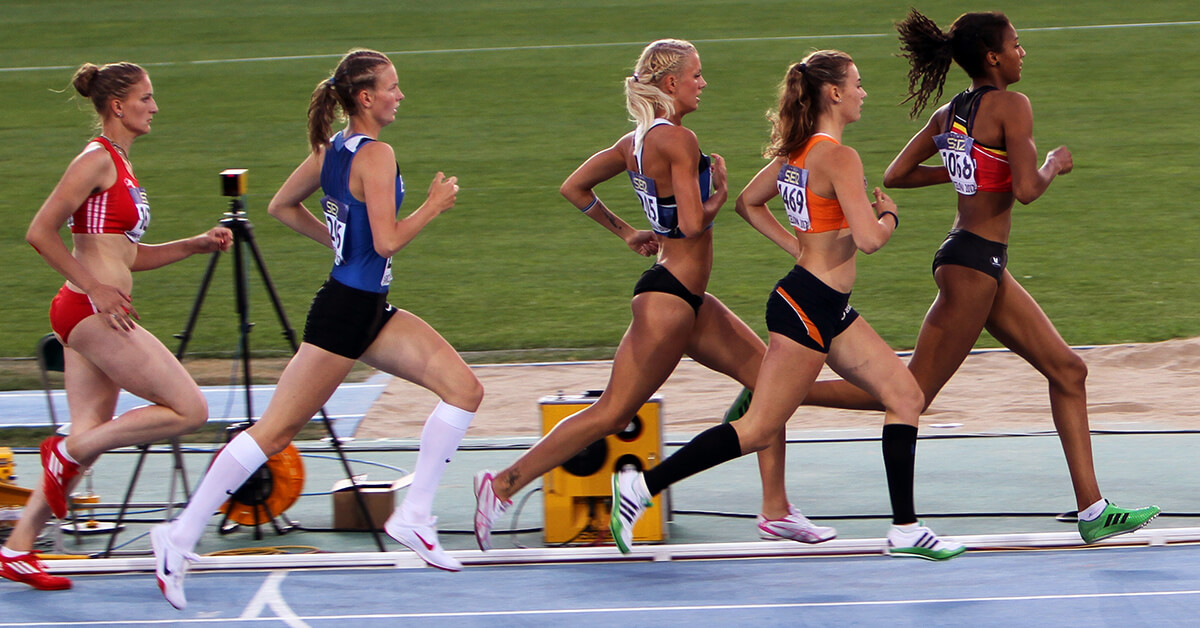 1. Derek Redmond: How To Shake Off Agony And Pick Yourself Up
It was the summer of 1992, in Barcelona, and the Olympics 400m semi-final race was about to start. Derek Redmond was at the starting line, fully confident, as one of the favorites for gold. And he was entitled to feel that way.
Seven years before, in 1985, he broke the British record for the 400m race. In 1986, he was already seen as a rising star, having won the 4×400 metres relay gold medal at both the European Championships and Commonwealth Games. And the awards kept on coming.
But nothing comes without a price. His career was interrupted several times because of injuries. In fact, before the 1992 Summer Olympics, he had undergone eight surgeries. His mental strength and perseverance brought him back on the race track every single time.
In Barcelona, he was at the peak of his career. When the race started, he sprinted forward, focused on getting the gold. Then something unforeseen happened: he tore his hamstring, mid-track. He fell to the ground, in agony, but after a short moment of despair, something unbelievable happened.
Watch how he gets up and struggles through to finish the race, with the help of his father. It's an incredible scene that sums up the power of the human spirit.
The injury turned out to be much worse than anyone expected. After seven interventions over the course of two years, Derek was forced to retire from his career as a professional athlete. Yet, he continued to excel and went on to play basketball for England.
"To be a true champion you need to be physically strong but even more importantly you need to be mentally strong – Derek Redmond
Derek Redmond now continues to inspire people around the world. He is an acclaimed motivational speaker and trainer who uses his experience in sports to encourage others to achieve greatness in whatever they do.
He even has a quote from Barack Obama on his website's homepage.
"Derek Redmond bravely making it through with little help, moments of euphoria after years of hard work. Moments when the human spirit triumphs over injury that should have been impossible to overcome – President Barack Obama
2. Wilma Rudolph: From Disability to Olympic Glory
If you think Derek Redmond was an inspiration, wait until you see Wilma Rudolph. She is the absolute proof that nothing is impossible.
Born prematurely, in a family of 21 children, with little to no resources to sustain a professional sports career, Wilma had to face even bigger challenges when she was stricken with polio. Not to mention this was the 1950s, which made things even more complicated.
But she had a fire burning inside her, an unstoppable strength that nothing, not even polio or social barriers, could ever stop her.
"The triumph can't be had without the struggle― Wilma Rudolph
By the time she was 12, she had overcome polio, started to walk again, to her doctor's' surprise, and took up athletics. Eight years later she was already an Olympic champion.
Wilma defied all odds and won three gold medals at the Summer Olympics in Rome, in 1960.

She retired shortly afterwards, in 1962, and then devoted the rest of her life to coaching underprivileged children.
3. Kerri Strug: The Power To Truly Overcome Pain
Until 1996, the United States had never won a gold medal in Women's Gymnastics. Hence, there was a lot of pressure, hopes, and support for Kerri Strug and her team, which the press called "The Magnificent Seven".
Watch the heart-stopping moment that landed Kerri on the front page of newspapers around the world and catapulted her into the spotlight. She won the US the first gold medal.
Kerri Strug's heroic performance has made history. How is it possible to run and vault again perfectly with a broken ankle? Almost 2 decades later, Kerri talks about that moment and what mental strength you need to accomplish greatness.
(Hint: Practice. Practice. Practice)

4. Billy Mills: The Underdog
At the 1964 Tokyo Olympics, no one knew who Billy Mills was. His name featured among the runners of the 10,000m race, but he was no "favorite", no "rising star". He wasn't even a high achiever, a talent that someone recently discovered.
In fact, Billy Mills himself had no idea that only hours later he would become the Billy Mills.
Half-Native-American and half-white, Mills grew up on a reservation in South Dakota. At the young age of 12 he was already an orphan, struggling for survival. The social context he grew up in wasn't helping much either. Native Americans were still living hard times back then. Forced to reside in a reservation, against their ancestral, nomad ways, the tribes were poor, unemployed and angry. Young Billy Mills had one hope, that running would set him free.
It was after I read my first Olympic book. I loved that it said Olympians were chosen by the gods! I thought, Aha. If I become one, I can go up to heaven and see my beloved mother! – Billy Mills, about his childhood dream of becoming an Olympic champion
Mills went on to improve his running skills and even won an athletic scholarship at the University of Kansas. He excelled at cross-country while at university but, by the time of the Olympic Games, he had left Kansas to join the US Marine Corps. It was while serving in the armed forces that he qualified for the Games.
At the Olympic Games, Mills was finally at his peak: he found a great coach in the US Marine, his wife was supporting his dreams and he felt more confident than ever. But no one knew who he was, until the last minutes of the race.
Watch as Billy Mills wins the gold medal in a stunning last-minute sprint.

Famously, after the race was over, a Japanese reporter asked simply: "Who are you?".  After an amazing achievement and a life dedicated to helping others, Billy Mills is a name many remember.
Billy Mills remains the only American to win gold in the Olympic 10,000-meter run
In 2012, Billy was awarded the Presidential Citizens Medal by President Barack Obama for his work with the Native American children. The Presidential Citizens Medal is the second-highest civilian award in the United States and it recognizes individuals "who [have] performed exemplary deeds or services for his or her country or fellow citizens."
Watch him speak about his life, exactly 50 years after the 1964 Olympic games.

5. Gabriela Andersen-Schiess: Made A Stand For All Women Athletes That Would Ever Compete In The Olympics
Up until 1984, the marathon had been limited to male participation only. That year's Olympic Games brought a huge change by allowing women to compete in the most torturous of athletic events. As you can imagine, there was a lot of controversy around this decision. Some public figures were coming out arguing "it's not a place for women". That women can't do it because they are not built for that kind of endurance.
Now think for a second about the women that enrolled in that first competition. They were brave just for doing so, in those times, but most importantly, they felt they were carrying the weight of the world on their shoulders. They had to perform well to prove the Olympic committee that indeed women were worthy of the decision.
Gabriela was 39 years old and she knew this was probably her first and last chance to compete at the Olympic Games. So she was determined to make the best out of it, even if she wouldn't win.
The race went well, but as she was approaching the last hundred meters, she realised she wasn't feeling well. She had missed a water station, the heat and humidity in Los Angeles were unbearable, and before she knew it, she found herself dehydrated and exhausted.
On the verge of collapse, the officials tried to remove her from the course track. But she wouldn't allow it.
Watch Gabriela as she refuses to quit the race, despite the exhausting conditions and suffering.

Now, looking back, I see that people kind of identify with you because they see the struggle and they see that if you really set your mind to, you overcome a lot of obstacles – Gabriela Andersen-Schiess
A true Olympic moment.
---
Sources:
https://en.wikipedia.org/wiki/Derek_Redmond
https://www.olympic.org/wilma-rudolph
http://indianyouth.org/billy-mills