The topic of productivity is so widely exploited that sometimes it's hard to get through all the platitudes and find relevant information. That's why Twitter is such a great tool for finding valuable content creators. It's easy to follow a list of influencers or experts and check their recent activity. If you want to follow everyone mentioned in this article, feel free to subscribe to our public list Top 50 Productivity.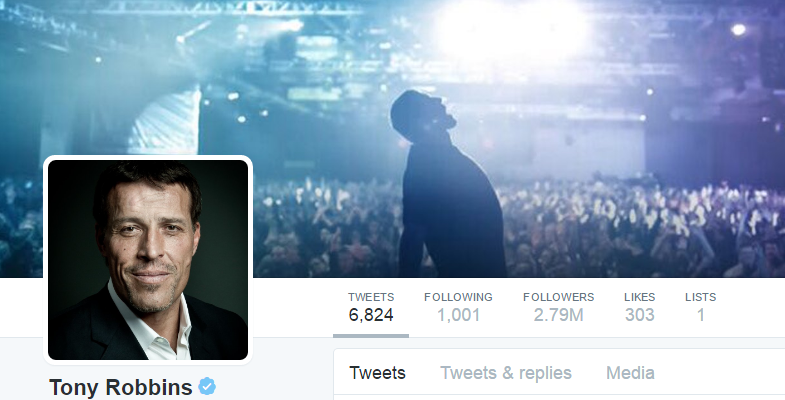 While crafting the list, relevance was far more important than the number of followers. First, I researched and listed the authors of popular books on topics like time management, lifehacking, growth, habit formation etc. I further looked at popular TED talks, podcasts and productivity blogs to see if their authors were active on Twitter. However (almost) completely unscientific, my method focused on finding quality content creators, rather than simply listing the most popular kids on the productivity-block.
Here a my Top 50 productivity experts to follow on Twitter–people whose expertise and advice I enjoy, and think you will too.
1. Tony Robbins (@TonyRobbins)
Tony Robbins has conquered it all: #1 New York Times best-selling author, life and business strategist, philanthropist, entrepreneur – you name it! He's done it all. Not to mention the fact that he's the most popular coach and productivity expert on Twitter. His cover photo literally screams "Success!".
2. Tim Ferriss (@tferriss)
Someone once called him "Indiana Jones for the digital age" . Forbes Magazine listed him among the "The Names You Need to Know". He's literally a "human guinea-pig" whose adventures you must follow. He's also the author of the bestseller The 4-Hour Workweek.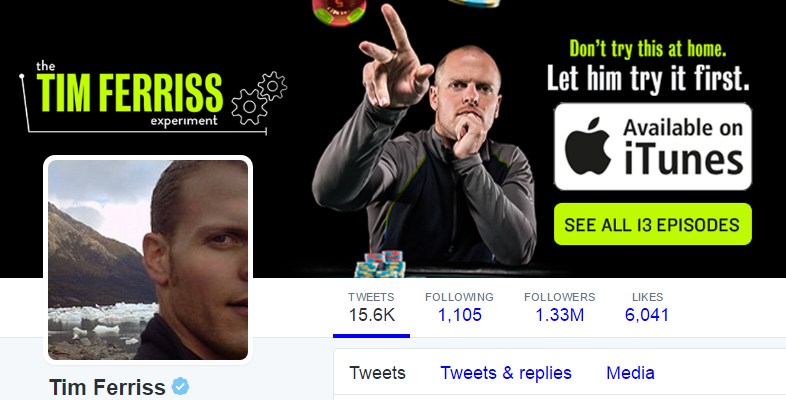 3. Maria Popova (@brainpicker)
Founder of the brainpickings.org project, Maria is one of the most successful content creators out there. She doesn't focus on the topic of productivity, but her posts are a great reminder of how beautiful life is and why we should find the time to live it (and yes, sometimes she does write about productivity as well!).
4. David Allen (@gtdguy)
David is the originator of the GTD (Getting Things Done), a work-life management system that has helped countless individuals and organizations bring order to chaos.

5. Seth Godin (@ThisIsSethsBlog)
This feed will help you keep up to date with Seth's blog. He writes about everything that's challenging in life and business, including matters like productivity.
6. Merlin Mann (@hotdogsladies)
Merlin Mann is an independent writer, speaker, and broadcaster best known for creating 43folders.com, a very popular blog where he writes about productivity, creativity, and work. On Twitter, he's ridiculously funny. And his tweets are ridiculously witty!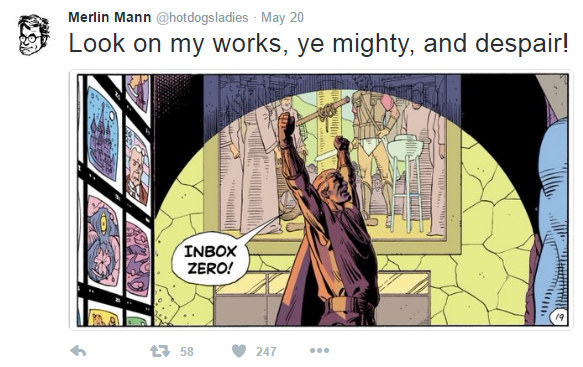 7. Leo Babauta (@zen_habits)
Leo is the creator of ZenHabits.net, a great resource for everyone looking to live a "less is more" kind of life. He shares really interesting, well-polished content from his own blog and from the ones run by his friends, such as @TheMinimalists. He's also the author of the book: The Power of Less.

8. Brian Tracy (@BrianTracy)
Brian is the author of Eat that frog! How to Stop Procrastinating and Get More Done in Less Time. On Twitter, he shares his own thoughts, blog articles, and curates the latest content on work efficiency.
9. Atul Gawande (@Atul_Gawande)
World, meet Atul: surgeon, book author, blogger, researcher. If he can successfully manage to do all of those activities (and preserver his sanity while at it), he must know something about productivity. Lucky for us, he's happy to share his secrets with the rest of the world.
10. Jonathan Fields (@jonathanfields)
Dad, husband, serial entrepreneur, growth strategist and award-winning author, Jonathan Fields is a great resource of information on how to be better at what you do. You can follow him on Twitter, read his articles or listen to his podcasts on The Good Life Project. He really masters the art of sharing content in every format.

11. Ryan Holiday (@RyanHoliday)
The author of The Obstacle is the Way and Ego is the Enemy is an encyclopedia of quotes and stories that can inspire you to accomplish more every day.
12. Charles Duhigg (@cduhigg)
Charles Duhigg is a Pulitzer prize-winning reporter for The New York Times. He is also the author of Smarter Better Faster, a book about productivity, and The Power of Habit, about the science of habit formation in our lives, companies, and societies.
13. Shawn Achor (@shawnachor)
Shawn Achor is an American happiness researcher, author, and speaker known for his advocacy of positive psychology. He is the winner of over a dozen distinguished teaching awards at Harvard University, where he delivered lectures on positive psychology in the most popular class at Harvard. He is also the author of The Happiness Advantage.
14. Kelly McGonigal (@kellymcgonigal)
Kelly McGonigal is a health psychologist who is known for her work in the field of 'science help' as it relates to achieving personal goals despite inner conflict. PS: There's no "PR person" or "Social Media assistant" behind her Twitter account 😉 .
15. Lorie Marrero (@loriemarrero)
Mornings often feel hectic because you run short on time? "While it seems a no-brainer, getting up 15 minutes early can eliminate the feeling of being rushed", says Lorie Marrero, author of The Home Office Handbook: Rules of Thumb for Organizing Your Time, Information, and Workspace. Follow her hashtag #ClutterTweetTip for more quick tips like this one.
16. Laura Stack (@laurastack)
Follow author and speaker Laura Stack for daily #Productivity Pro Tips.
17. Tony Schwartz (@tonyschwartz)
Tony's most recent book, The Way We're Working Isn't Working: The Four Forgotten Needs That Energize Great Performance, was a New York Times and Wall Street Journal bestseller. His previous book, The Power of Full Engagement: Managing Energy, Not Time, co-authored with Jim Loehr, spent four months on the New York Times bestseller list and has been translated into 28 languages. In 2013, Tony launched a biweekly column for the New York Times titled "Life@Work." He is also a contributor to numerous publications including The Huffington Post and Harvard Business Review, and for three years, he wrote the most popular blog on HBR.org.
18. Joshua Fields Millburn (@JFM)
If you're a true believer of the saying "Less is more", then you shouldn't miss Joshua and his business partner on Twitter. They are the creators of the blog and the movement: theMinimalists.com.

19. Ryan Nicodemus (@RyanNicodemus)
His Twitter bio says it all: Mentor. Half of @TheMinimalists. Author,@ETRBook. Producer,@MinimalismFilm. Cofounder,@AsymPress.
20. Laura Vanderkam (@lvanderkam)
Laura Vanderkam's mission is to help her readers rediscover their true passions and beliefs in pursuit of more meaningful lives.
21. Frank Wander (@FrankWander)
Twitter bio: Author, transformation expert, former CIO, speaker. Uses human factors to boost productivity.
22. Carol Dweck (@Brainology)
Follow @brainology for Tweets from a world-renowned Stanford University psychologist and author.
23. Dave Crenshaw (@DaveCrenshaw)
Dave Crenshaw is the master of helping businesses triumph over chaos. He has appeared in Time magazine, FastCompany, USA Today, and the BBC News. His first book, The Myth of Multitasking: How 'Doing It All' Gets Nothing Done, has been published in 6 languages and is a time management best-seller.
24. Kevin Kruse (@Kruse)
Twitter bio: NY Times bestselling author, Forbes contributor, entrepreneur, and keynote speaker on Wholehearted Leadership, and Extreme Productivity.
25. Jay White (@JWhite)
Jay White is the creator of the blog "Dumb Little Man" and, in his own words, "a champion of anything that makes life and work more efficient".
26. Alan Henry (@halophoenix)
Editor-in-Chief @Lifehacker.
27. Stever Robbins (@GetItDoneGuy)
Twitter bio: Entrepreneur, executive coach. Professional speaker, futurist, comedian. TEDx talk Living an Extraordinary Life. Business podcaster on productivity.
28. Steve Roesler (@steveroesler)
Leadership speaker, award-winning writer, Talent/HR advisor & consultant.
29. Nick Loper (@nloper)
Marketer, skier, author, business nerd, podcaster, TEDX speaker.
30. Tylie Eaves (@TylieEaves_VM)
Twitter bio: CEO & founder of VM LLC, marketing, branding & SEO expert, mindset & productivity coach, speaker, author.
31. Monica Ricci (@MonicaRicci)
Keynote speaker, organizing and productivity expert and consultant.
32. Alexandra Cavoulacos (@acav)
Founder of @dailymuse, Alexandra was listed in "Forbes 30 Under 30" and "Inc 35 Under 35".
33. Chris Bailey (@wigglechicken)
Author of The Productivity Project.
34. Lisa Woodruff (@organize365)
Lisa is a professional organizer, blogger, podcaster & productivity expert.
35. Jill E Duffy (@jilleduffy)
Need some help spring-cleaning your digital life? Follow Jill, Author of Get Organized: How to Clean Up Your Messy Digital Life.
36. Jocelyn K. Glei (@jkglei)
Founding Editor, 99U. She writes about work and creativity in the age of distraction.

37. Carson Tate (@thecarsontate)
Twitter bio: Business coach. Pro-organizer. Spiritual butt-kicker. Known to deliver the best productivity training in the industry.
38. Andrew Griffiths (@AGauthor)
Griffiths compiled tips, experiences and responses from thousands of business owners to write a book, which helps companies identify the main reasons for work-life imbalance and suggests ways to fix it. Follow him for more hands-on advice you can apply in your life and business.
39. John Trosko (@JohnTrosko)
John is a Los Angeles-based professional organizer, past-president of the National Association of Professional Organizers.
40. Michael J Gelb (@MichaelJGelb)
Author of N.Y. Times bestseller: How to Think Like Leonardo da Vinci and Creativity On Demand: How to Ignite and Sustain the Fire of Genius.
41. Vicki James (@VickiPPS)
Looking for advice on better project management? Vicki is a certified project manager and business analyst with PMP, CBAP, and PMI-PBA. "My passion is sharing best practices and helping organization get more value for the project dollar."
42. Lisa Zaslow (@GothamOrganizer)
Twitter bio: Organization & productivity expert. Speaker, writer, spokesperson. @RealSimple columnist.
43. Timo Kiander (@ProductiveSd)
Author of Work Smarter Not Harder: 18 Productivity Tips That Boost Your Work Day Performance.
44. Steve Pavlina (@StevePavlina)
With his work attracting more than 100 million visits to StevePavlina.com, Steve is widely recognized as one of the most successful personal development bloggers in the world.
45. Regina Leeds (@TheZenOrganizer)
She tweets about how to organize your life, exercise, design and spiritual tips.
46. Martin Boroson (@MartinBoroson)
Twitter bio: Keynote Speaker + Executive Coach. Author: One-Moment Meditation. Putting mindfulness to work.
47. Deborah J Cabral (@DeborahJCabral)
Twitter bio: Certified professional organizer, productivity & efficiency coach, author, motivational speaker.
48. Jones Loflin (@joneslofnil)
Innovative, practical tools for leadership and team development.
49. Cory Cook (@coryfcook)
Twitter bio: Organising & Time Management expert. Ironman Triathlete.
50. Marcus Platt (@marcus_platt)
Twitter bio: Self-confessed Tech geek with a passion for Self Improvement, productivity, and relaxation. Author of The little book of Nozbe.
Did I miss someone? Feel free to contribute to the list by leaving a comment below.