Company culture and communication go hand-in-hand. Without communication, it's hard to build a culture where employees thrive and engage with their work because they're likely to feel less involved, while also being less trusting and less connected with the company as a whole. An organization built on communication brings employees in, and encourages them to share their ideas, connect with their co-workers, and build relationships with the leaders who guide them. Communication is an enabler for employee engagement.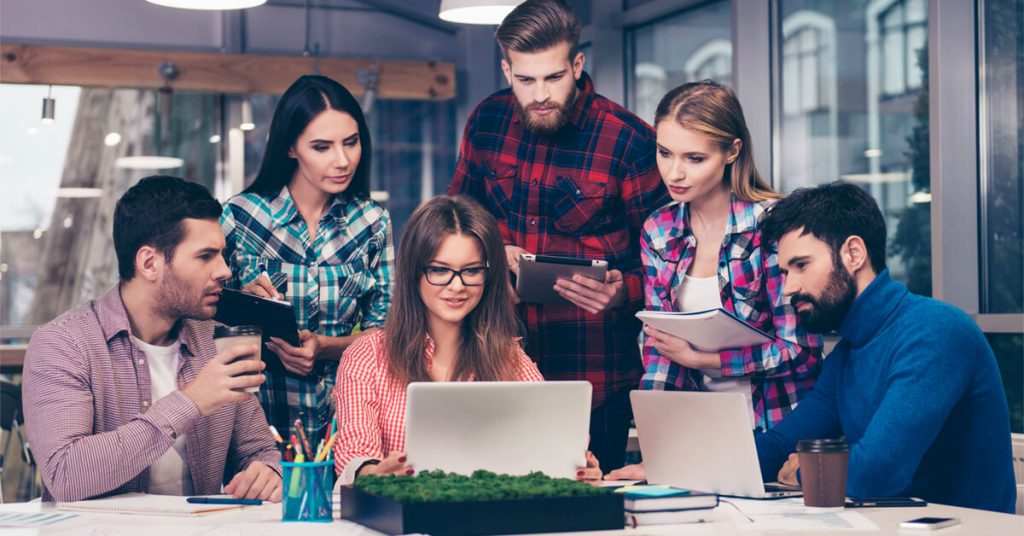 What's the connection?
A great company culture is built only when a variety of factors are in place. If you want employees to share their insights or connect with the work they're doing, you need to be openly communicating regularly. Here's why.
Communication drives trust
Developing a company culture of trust and respect requires great communication, both listening and sharing. Consistent and open dialogue drives the trust needed to allow employees to do their best work, connect with one another, and feel psychologically safe. This is where the sharing of ideas and empowering employees to make decisions and communicate what they need, all come into play.
Communication grows employee engagement
Two-way communication, in which employees communicate with leaders and leaders communicate with employees, encourages employee engagement, a crucial element of a great company culture.
Grow your business faster with better team communication!
If employees aren't engaged, the job becomes a paycheck. Turning the office into a place where employees want to be requires that they're engaged with the company and the work they're doing. This is where communicating about goals, encouraging collaboration, and providing consistent feedback becomes important.
Communication aligns people with the company
To build a great company culture, employees need to feel aligned with the company and its mission and values. Great communication allows you to foster this connection, by continually sharing and living the values of the company, while reminding employees of their place and value within it.
This is when transparent communication is critical. In order to bring employees into the conversation, you must first open your arms to them.
Here's how to make them better
Luckily, there's much that a company can do to improve both communication and company culture. If you improve communication, you'll find culture improves along with it and ultimately employee engagement. Use these ideas to start building a better company culture.
Create a culture of transparency
When communication is lacking, employees are often left in the dark, leaving them to wonder what's going on, and thus feeling left out and disengaged. To avoid this problem, create a culture of transparency. Leaders should be consistently open about new changes, company challenges, and more.
Start by holding company-wide quarterly meetings. It will give leadership a chance to share updates on the company. This type of sharing also creates an environment where employees can ask questions and better understand their role in the company as a whole. The key is truly being transparent and providing all the information that you can.
Don't forget to make 1-on-1 transparency between managers and employees a priority as well. The OfficeVibe 2018 State of Employee Engagement report found that 1 out of 5 employees feel their manager isn't transparent with them and 37 percent of employees don't feel close with their manager. This gap makes it hard to nurture a company culture with high employee engagement.
Provide feedback regularly
The same OfficeVibe report found that 63 percent of employee don't feel they get enough praise. This is critical for company culture for one important reason: it decreases turnover, explains OfficeVibe.
"Not getting recognition for your work when you know you deserve it is one of the most frustrating things that can happen in an organization. Recognizing your employees is one of the most important things you can do to increase retention and lower turnover."
When employees are consistently coming and going, it's more challenging for them to develop the relationships that help you nurture a healthy and thriving company culture. To avoid this challenge, provide feedback regularly. Build it into the company schedule each quarter, allowing managers and leaders to provide feedback to employees, while also getting feedback in exchange.
Invest in good communication software
Using an online communication platform like Hubgets makes it easier than ever to encourage communication. A cloud-based platform available to all employees, regardless of their location, allows even remote workers to stay close to their team members and managers.
This way, keeping everybody updated and involved in the team's activity will be much easier. Having constant access to company's every day life will greatly increase employee engagement.
Improve communication, increase engagement
If you improve communication, you may find the company culture follows. Use these ideas to start opening more dialogue between employees and from leadership down. Don't let poor communication affect how engaged employees are, or how happy they feel with their work.
Keep great employees at your company by prioritizing communication that leads to a thriving company culture and better engagement.