Good teams value the opinions and interests of each team member. Great teams create contexts where each and everyone can voice them out. Hubgets Team Board builds that kind of context for your team and helps your organizational culture by enabling members to share what they know, what they're interested in, and what they like. Because work is not just tasks and projects, it's also getting to know and having fun with your teammates.
On every update that we did so far, we made sure that the Team Board got sleeker and better. Today we're excited to show you that Hubgets Team Board is now more engaging than ever. Let's find out how it can help you empower your organizational culture.
Hold debates
Let's say you've come across an interesting read and you want to know what your teammates think of it. Post it on the board, and your teammates can put in their two cents using the new Reply feature.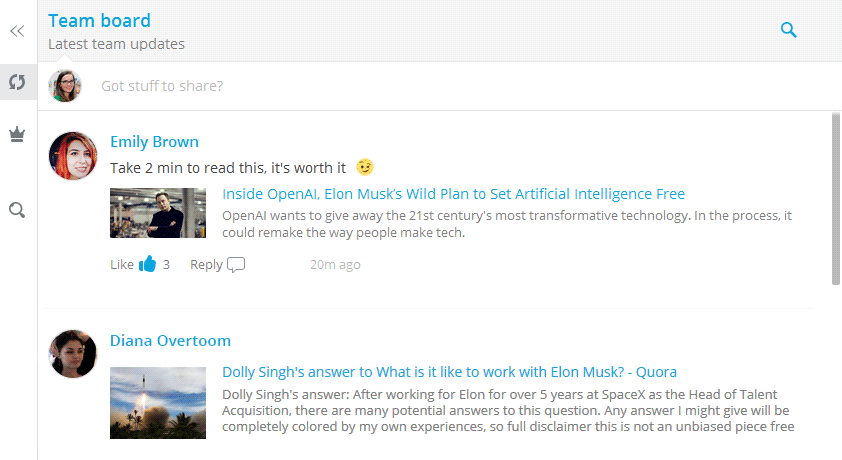 When commenting on Team Board posts, you can use emojis, copy/paste web content, and upload any kind of file.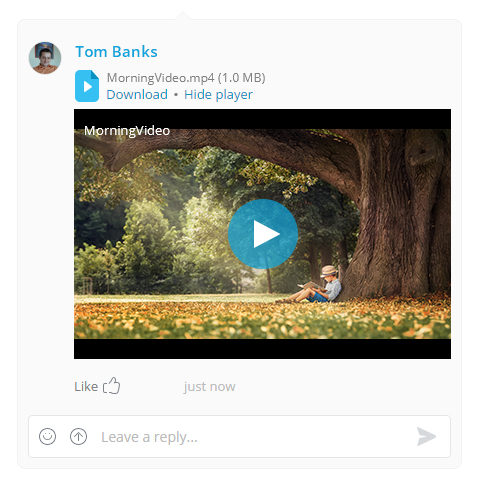 Sound files and videos can be played right there, on the board.
Bookmark your favorite content
Each Team Board contribution is personal, hence subjective. You may find some posts more interesting or more important than others. The level of relevance is up to you, and you now have the tools to sort them as you please.

With the new Tags feature, you can bookmark posts using default keywords such as important, later, toremember, todo or you may use your own criteria. For example, if you don't have the time to read what seems to be an interesting article, you can tag it as "later" so you can come back to it.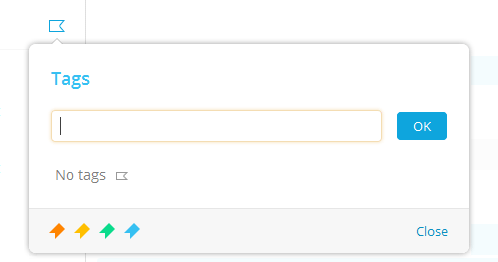 Fit in faster
Our board comes with no constraints. Team members contribute if, when, and how they want to. They are free to express themselves, tell their personal views of the world, share the things that crack them up, their pursuits or hobbies etc.
While it offers a natural, effortless way to bond with teammates, the board also mirrors the team spirit. For newcomers, it's a non-intrusive context that allows them to learn about their new colleagues and get a better picture of the organizational culture.
Grow your startup faster with better team communication!
For example, the Search feature lets you revisit older posts of a particular team member, within specific time intervals. Or you can find all Team Board discussions on specific topics. When you're new on the team and have so much in-advance information at hand, it's easier to start and build relationships.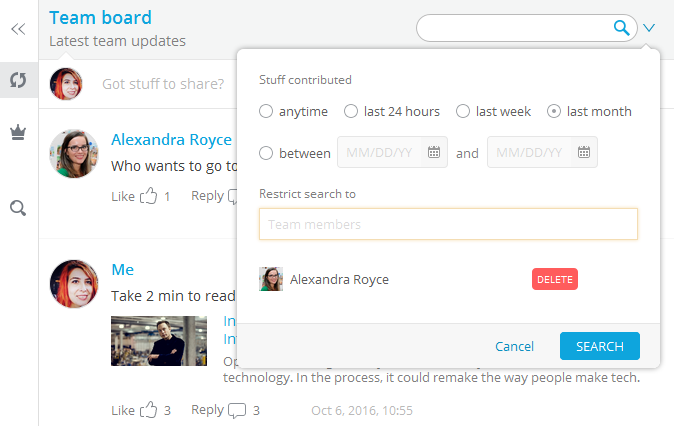 As a newcomer, you can take advantage of the Team Board and introduce yourself to the team on your own terms, when you're ready. You can either post stuff that you like or engage in conversations with your new teammates. Either way, it's a much easier way to feel part of the team and get rid of the awkwardness that every beginning comes with.
Some useful Team Board tips
Here are some tips to help you use the Team Board at full capacity:
1. Clean up your posts
If you don't want those long URLs showing up when you share web content, copy paste the link in the editor. Once Hubgets displays the preview, remove the URL from the editor. Your message will be easier to read.
2. Moderate your comments
To improve, correct or enrich your posts, just press the arrow icon at the top right of your message and click Edit. If you want to completely remove something you posted, select Delete. Just so you know, you can only edit and delete your own posts 😉
3. Never miss a thing
If you're scrolling through older posts, and meanwhile your teammates have posted new messages, a blue New post on Team board! button will be displayed at the top of the left panel. Click it and Hubgets will take you to the latest updates, so you can catch up.
4. Save what you need & like
There's a Download button under each shared file, in case you want to save them to your computer. If you want to store a photo, click it and press the Download button at the bottom right.
There are many ways you can use the Team Board to bond with your team on Hubgets and empower your organizational culture. Enjoy all the new features and stay tuned for new ways to boost team collaboration.