Every team has its own needs. Take the software industry for example. One team is coding, another is testing, while others are cooking up a marketing campaign. We know from experience that these simply don't mix. That's why it's so useful to use Topics to keep your teams' communication and collaboration focused on what matters.
We designed Topics in Hubgets out of our own need to keep the teams focused. Topics can be as open as you want them to be. For things interesting for the entire team a public Topic can be started. Users can leave the discussion at any time or join in as they like. For other subjects that concern only a group of people, create private Topics and invite only selected teammates. Projects can instantly be handled by those involved, while the rest of the communication channels remain open for the entire organization.
We use Topics for things like:
Discussions on projects – The team assigned on a project is able to discuss about every step of the way and push down the number of meetings and work interruptions.
Reports – OK, your team has a report. Coffee, coffee, coffee!!! Now go create a Topic so that you won't need a meeting for everything you have in that report 😛
HR affairs – There is a training only some of your teammates should attend. You're that thoughtful team player and don't want to push everybody. Just open a Topic and select the interested people only.
Birthday preparations – We're always discussing what kind of gift the party girl/boy would want. With Hubgets, this process has become very collaborative – create a Topic without inviting the one, chat (a lot!) about what to get, then wait for the cookies 😀
Inside-team chatting – When you want to speak with your entire team, create a team Topic. And this is how SQA daemons and Sales angels have risen in our Topics feed…
Knowledge sharing – The backend team wants to share its knowledge with other devel and SQA teams to make the process smoother. And now we have a Topic called Backend technical questions.
Marketing campaigns – When marketing wants help from Customer Service and Sales, they open a Topic. No, I won't tell you the Topic name in this case, or else they'll hunt me down forever 😈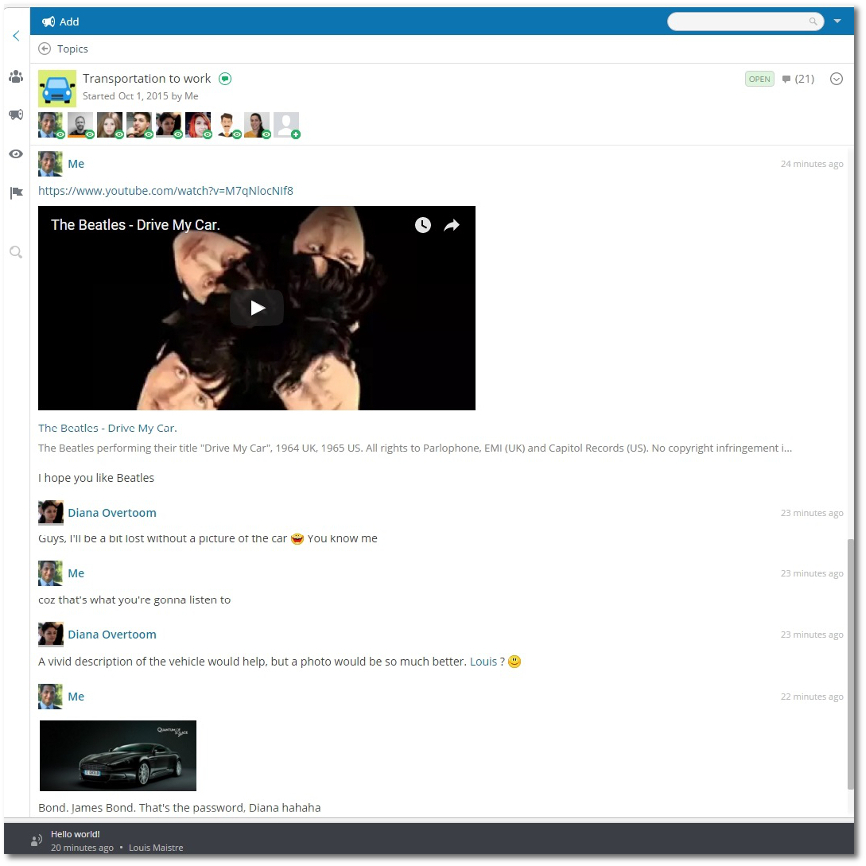 Topics offer the ability to use tags to stay organized. By the way, tags are a seriously underrated commodity. You realize how useful they are when you join a discussion days after it has been initiated and no one has the time to fill you in. Instead of scrolling aimlessly to find what you're looking for, you can debrief yourself by clicking through the tags.
I have one more and then I'll rest my case. Imagine the huge internal email threads with the entire department CCed inside. Come on, you've seen that over and over again. Sending an email to a list of recipients has never facilitated a discussion. It's annoying, frustrating, and usually leads to a meeting. Auch, emails and meetings 😀 Yeah, we know how many people would want to see them drop dead… But that ain't gonna happen too soon. So, we've built Topics in Hubgets. And with just one focused blow, the number of internal emails and endless meetings will go down for the first time in corporate history 🙂