When Coronavirus cases first started to spread across the country, businesses closed their doors and sent employees home to work remotely. Almost a year later, a great percentage of these working Americans are still clocking in from their kitchen tables or home offices. And many of them are working from home parents.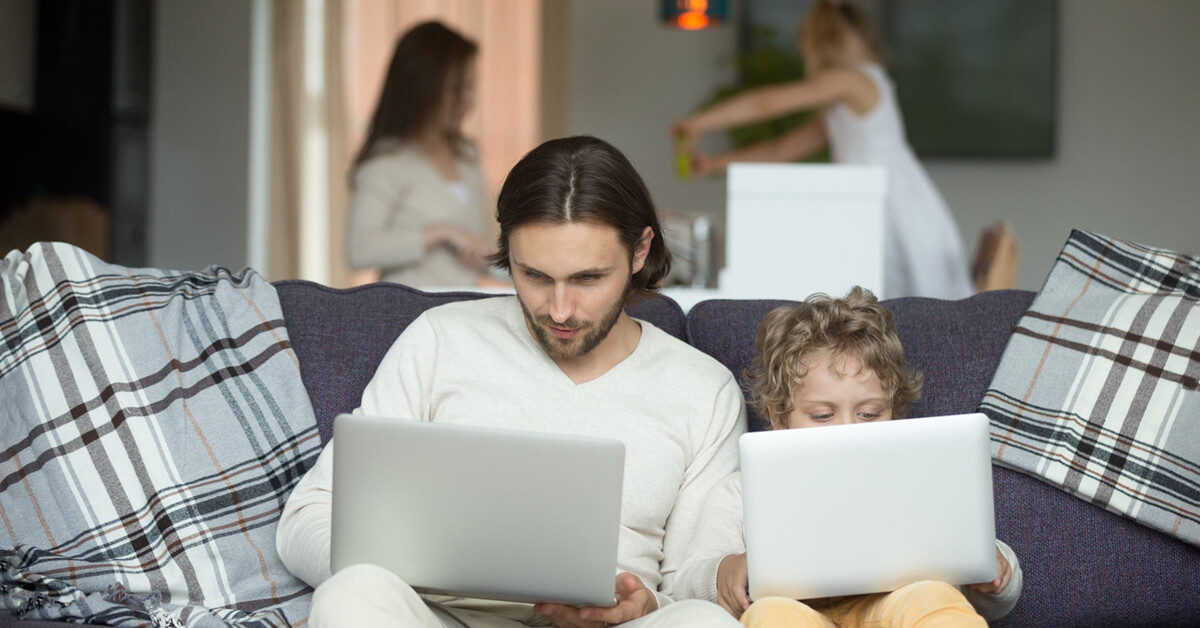 According to Kate Lister, president of Global Workforce Analytics, 25 to 30 percent of the workforce will be working from home multiple days per week by the end of 2021. While many are thriving with this new shift, there's one segment of the working population that may be struggling more than others: parents.
Working from home becomes increasingly complex when you have kids. Whether your child is attending school remotely or is too young to be away from you, this adds an extra layer of stress to your day. Not to mention, it's distracting and makes getting work done even harder.
Tips for WFH parents
The good news is that it is possible to work from home with kids. Use these tips to keep your kiddos on track at home while keeping up with your own work.
Get clear on your scheduling needs
As a parent, you understand the needs of your kids throughout the day. You also know what your own work schedule requires. Take a closer look at these two conflicting schedules to see where they can align and work together.
Grow your business faster with better team communication!
For example, instead of helping your child all day with virtual school, pick one or two classes to attend with them. If your child struggles with math, plan to attend that lesson to make sure they pay attention. Then, after the workday is over, you can help them with homework and catch up on their work in other classes
Talk to your boss about the situation and see if there are any accommodations they can make. Boston Consulting Group reports the changes employers have made to accommodate remote working parents:
Made daily work schedules flexible
Reduced work hours
Decreased amount of work
Reprioritized projects
Pushed back deadlines
There are many ways you can ask your leadership for support during this time. The first step is to figure out what would make your schedule more manageable so you can ask for support from your boss.
Create a dedicated space for work
Maximize your work time by creating a dedicated workspace. At least, try to create a work environment where you can focus for a few hours during the day.
"I'm much more efficient in a quiet, distraction-free space," blogger John Gerard tells the Muse. "Our home office is far enough away from the television and the play area that, with the doors closed, I can easily work in peace."
Not everyone has the luxury of a home office. However, there may be better options than setting up at your kitchen table next to your child. Consider placing a desk in the master or guest bedroom so you can work with a door closed. Some parents are even working from the closet. It doesn't matter how absurd it sounds, if it works, it works!
Conversely, you may be able to alternate working times with your spouse. One of you works with the children and the other puts on headphones to do some work and take calls.
Partner with other parents
You're not the only parent trying to juggle remote work and at-home kids. The pandemic has inspired parents to pursue a variety of solutions that may also work for your schedule.
Start by reaching out for solutions and ideas from parents in your network. What's working for them? What shifts have made it possible to work both their child's work and their own?
If it's safe, you can also reach out to a neighbor or one of your child's friends to see if you can share the school day responsibilities. Ideally, your child can go to their house for one half of the day while you work and then return with their friend for the other half so the other parent can work. This allows both kids to be entertained or supported during the day while both parents also get at least a half-day to stay focused.
You can also look into learning pods, small groups of students who learn under a tutor or attend virtual school under the supervision of a stay-at-home parent. You may be able to pool your funds with a few other parents so your children are cared for during the day without the mass exposure of attending school.
Don't stress about screen time
Before the pandemic, parenting health experts continually cautioned parents to avoid too much screen time for kids. However, the pandemic has changed how some people see these screens.
"I want to take this moment to apologize to anyone who… felt judged or shamed by my, or anyone's, implication that they weren't good parents because they weren't successfully enforcing a 'healthy balance' with screens," Anya Kamenetz writes at the New York Times.
While playing with your kids outside or engaging them in crafts can be fun and educational, it's not always possible when you still need to maintain a full workload. An afternoon of watching TV or playing online games while you work may be necessary. And, as most parents would agree, there's no judgment. You need your productivity time and preventing your kids from getting bored is a key part of that.
Everyone needs to compromise at some point
As we enter 2021, almost everyone has been affected by the Coronavirus pandemic in some way. People have lost friends and loved ones, weddings have been postponed, and many have lost their jobs.
This past year has taught the world to be flexible and find ways to compromise. And new parents know this more than anyone. Find solutions that work for your family and your work schedule.
Remember that it all starts with you getting clear on what would make your workday possible. From there you can ask for support, reach out to other parents, or give your kiddos a little extra screen time while you take meetings. Find what works for you and let the rest go.